Translation of a page
1834 Life at Hopwood Hall
Thursday 22 May: We went to the races again which were certainly very unpleasant as far as the weather went; a violent East wind, extremely cold and clouds of dust which stifled us: it is the nastiest weather you could have for these outdoor amusements! The races were not very good: Lord Wilton stayed nearly all the time close to us on the stand and talked to me very pleasantly; but he was disappointed by two horses in which he had placed confidence; they were both beaten and so he lost the Gold Cup which I had wished for him and foretold: it was only on the second circuit and quite close to the winning post that a horse called Giovanni shot forward into the lead and beat Languish (Lord W.'s horse): up till then the latter had had the advantage. He was put out although he made a show of not appearing so. The Misses Bradshaw were also there naturally; and they seemed to me still less deserving of their reputation as beauties.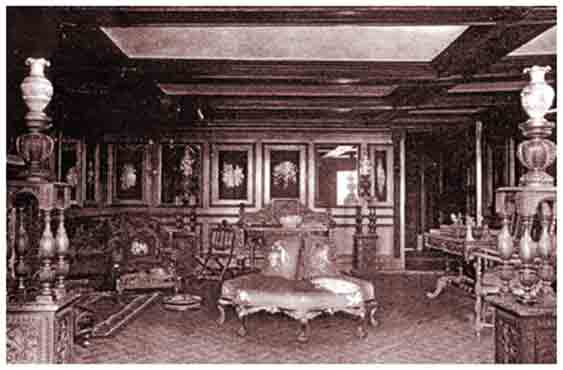 (This information is reproduced from A Victoria History of the Counties of England,
A History of the Couny of Lancashire, Volume V, page 174, by permission of the Executive Editor)
Lord Molyneux introduced us to a Manchester banker; he is a Dutch Jew called Levison, with the finest and most attractive face: he greatly resembles Napoleon and has dressed himself like the great man in several fine costumes in Manchester; he seemed to me very pleasant, his smile greatly contributes to the likeness: he is passionately fond of music and caused the military band to play in the salon adjoining the stand: they played the overture from Masaniello and the one from Semiramide with perfect ensemble. The Colonel was there, and being a friend of Lord Molyneux we were immediately entertained by all the pieces * we asked for. Today was less tiresome than yesterday but the weather was horrible. In spite of this drawback there was a tremendous crowd.
Mr Frank arrived this morning and sighs all day at his sweetheart's side - also Lord Molyneux and Mary: the music contributed a great deal in making this meeting more acceptable.

They played the delicious air: Ah: come mai nascondere la fiamma vera [?] by Rossini, at the first bars of which Ld. W. and I uttered an exclamation of joy on hearing it.

Friday 23. Same cold wind, last day of the races, but we are not going. Our gentlemen went to the Cockpit. Lord Molyneux has one of his terrible headaches and is in bed. However he appeared about three o'clock and has been very cheerful all day. All our gentlemen came back late: it seems that the races were better today and the weather a little less unpleasant. Lord Wilton was there and his horse Languish won one of the races: which pleased him greatly: he was cheered by the people like the day before yesterday. He leaves for London this evening with Lady Wilton who carne this morning to Heaton. There was a crowd on the stand they say, nearly the same people as yesterday.
These days we have been dining at 9 o'clock in the evening. I sang and played the harp with Mary all evening.