Translation of a page
1833 Living on Lake Como, Italy
Friday, 27th September. I have been to take leave of these charming shores and with many regrets! I went walking with Mrs T. near the Villa Sommariva; and by means of the telescope was able to survey even the apartments of the Villa Melzi.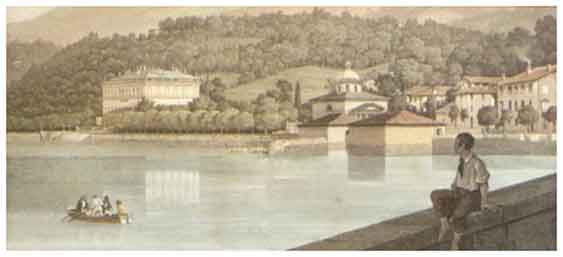 We embarked at 3 o'clock in the Vapore, Lario, coming from Domaso. There were a great many people, among others Mr Quin and his friend, that is to say his wife to whom he presented us: they have been on Lake Como for four months, often changing their residence. Recently they have been living at La Majolica where there are only two houses just near Cadenabbia: they told us that Lord and Lady Caernarvon were at Belagio thus we were very close to two families of our acquaintance without knowing it. He told us he had recently had news of his sister Lady Harriet Galway who is in Ireland with her daughters. We were obliged to go down into the cabin because of a heavy shower; there we were literally crammed together with the English, some priests and a numerous English party who had the bad taste to burst into laughter all the time at the eccentric air of Mr Quin. We stifled there and could see nothing, thus Pliniana escaped us completely. We went back on deck in spite of the rain to see the Villa Tanzi which Lady H. Galway has lived in, and after her the family of that young Mr Locke where he died unhappily under the very eyes of his wife who was at her window. He was submerged in an instant by a gust of wind which capsized his yacht, overburdened with sails. This lake is very dangerous because of violent and sudden gusts of wind which come down from these high mountains. It is now a Mr Money, English Consul at Venice, who lives in la Villa Tanzi with his family: he was on board with us: very close to there is the Villa Guiditta built by Mme Pasta, the queen of the lake; they say that she goes out in the evening singing on her boat, when the weather is good, and delights the inhabitants of these shores; they like her very much in Como and in the area.
We caught sight of the famous Villa d'Este and arrived at 6 o'clock in the evening at the Hotel della Corona where one is very badly served. This Vapore is of a very heavy construction and its progress is extremely slow: it does not go in bad weather, not being strong enough to hold its own against the wind: We took leave of Mr Quin and his friend who were going to the Angelo and intended to return the next day to Bellagio.