Translation of a page
1827 Regarding Talbot's discovery of the Magna Carta
Sunday 12 August. Went to church. I like the look and the manners of Mr. Paley. There are two or three very curious windows in our church; Gothic, of a good style.
Monday 13. Mr Talbot showed us the Great Charter, Magna Charta conceded by King John to the Barons. This one was given by his son, Henry III, to Ela Countess of Salisbury, who was Sheriff of the County of Wilts in 1226. It is the fundamental basis of English freedom. It is on a well-preserved sheet of parchment, with the seal of Henry III. It is always kept in a room in the tower where the archives are kept. Mr Awdry, the steward of the property, came and opened the monument room for us.
Tuesday 14. A tuner came from Devizes to tune the piano, with the excellent harp by Erard, which Mr F. bought before leaving London. It is a perfect instrument; the piano is also very good.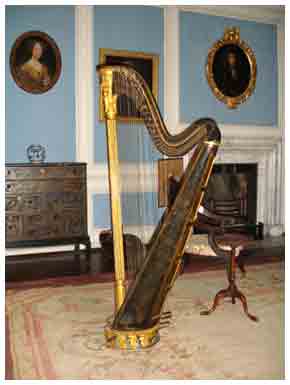 Wednesday 15 August. An old Mr Ford, 80 years old, who lives at Pickwick Lodge, quite near here, and Mr Awdry, dined with us.
Thursday 16 August. They left for Bath and returned because of the rain. There was a storm. Thunder and lightning.
Friday 17. Mr and Mrs Methuen, daughter of Lady Mildmay, came to visit, They live at Corsham Court, three miles from here. The ladies went to Bowood, it is only five miles away.
Saturday 18. The Porter from Bowood came to tune the piano! We found an ancient secret staircase which goes from the East Gallery into the garden and into the cloister. Its doors were walled up.
We made endless conjectures on the subject. It was full of bats which put out the light whenever we went in there.
Sunday 19. Lady E. was with Mrs Methuen at Corsham. Walk to Notton to see Mr. Elms' beautiful carnations.
Monday 20. Three young wandering dandies, Mr Eden, Mr Glyn and Mr Hamilton, came to visit the Abbey in the pouring rain. We gave them hospitality. A very curious old dress of embroidered red satin was found.
Tuesday 21 We all went shopping in Bath in the sociable. The weather was beautiful. We crossed a charming countryside on the way there, very undulating, well cultivated and thickly populated. I had already gone to Bath from Clifton two years ago: it is a charming town. We came back to dinner at the Abbey at 9 pm.