Translation of a page
1822 Grand Tour: from Nice to Marseille, France
Friday 6 April. We parted today from Milady and Mr. Talbot. It was a very painful moment for the poor children and their mother, whose emotion I shared. They are going towards Bordeaux and we have come to dine at Beaucaire. An unremarkable town. There is a fine canal. We went by St. Remy, I saw from afar the Roman Monuments. We slept at Orgon, three in the same room, tolerably well.
Sunday 7 April, Easterday. We came to have dinner in Aix, and we slept here. Mr F. has consulted an English doctor for Horatia. It seems to me, by his opinions on her health, that he is the first man of good sense whom they have seen for her. Mr F. paid a visit to Lady Elisabeth Lowther. The children wrote to their mother. Horatia had a slight sore throat.
Monday 8 April. We left at six. We dined at St Maxime: it was a fine day, still a little wind. The children wrote to their mother from Aix. We are at Brignolles to sleep. It is quite a pretty little town in a pleasant position. Mr F. bought us boxes of Brignolles Plums. (this morning they went to the post office at Aix for me - there were no letters) I was not well all day.
Tuesday 9 April. We have left Brignolles to come and dine at Vidaubon and sleep at Fréjus. The weather was charming. The surroundings of this town were adorned with all the freshness of spring. However we did not take a walk.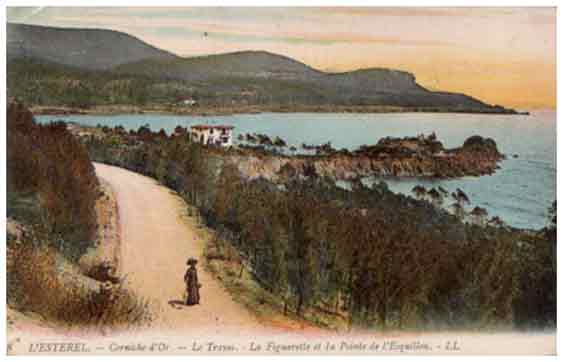 Wednesday 10. Today we crossed the Estrelle. It is one of the principal mountains of a beautiful range of that name which borders the Mediterranean from Cannes to Toulon. I went up on foot, I picked a quantity of charming flowers, white sisters and others, pink and perfumed. We met on this mountain Lord Caernarvon, his two daughters, the Ladies Herbert, coming from Italy and going to Paris, they spent a fortnight in Nice. I spent several days with them in their house at Highclere in England. Near Cannes we met Lady Davy. She is going to Paris by way of Toulon. From Cannes we went to Grasse, a pretty little town famous for its perfumery; it is true that its fields are fields of rosebushes, its hedges are made of rosebushes, its walls are covered with them, the roads bordered. We did not have the pleasure of seeing them in flower. That must be delightful. We had some rain which deprived us of a walk. This town is in the mountains on a hill from which one has a fine view of the sea. There are lovely houses in its environs and the gardens there are charming. We slept at Grasse.
Thursday 11 April. We went through Cannes again and lunched there, to Antibes and we arrived at Nice at 6 o'clock in the evening. The servants were especially very happy not to have poor Maria; we have had rain all day.